November 30, 2020
3 Ways to Replace Plastic Wrap!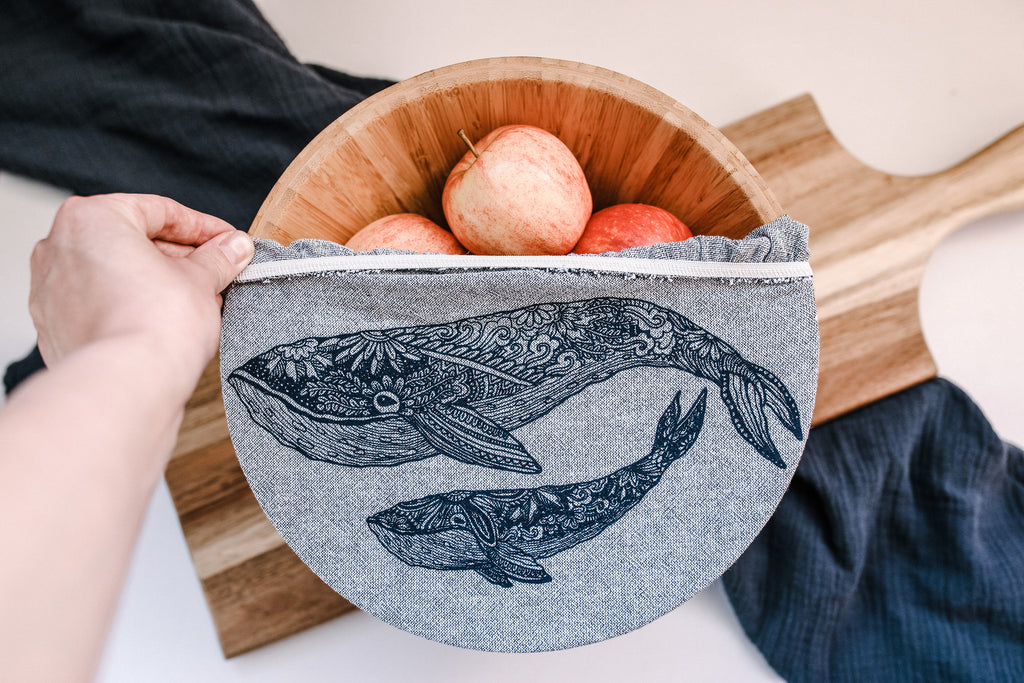 Cling wrap, plastic wrap, whatever you call it, it's time to replace it!!
North Americans use about 2 rolls of plastic wrap a year. Given how difficult plastic wrap is to recycle, virtually all that is used ends up in landfill. That's when the PVC and PVDC the wrap is made of turns into dioxin, a highly toxic chemical. According to The National Geographic "In marine environments, plastic wrap contributes to a larger plastic pollution crisis, but unlike other plastics, scientists are finding that PVC and PVDC do great jobs of picking up bacteria and metals. Those contaminated pieces of microplastic then harm the fish that mistake them for food."
https://www.nationalgeographic.com/environment/2019/07/story-of-plastic-sticky-problem-of-plastic-wrap/#close
1) Beeswax Wraps
The good news is there are options when it comes to replacing plastic wrap. One of our favorite options is Beeswax Wrap! Made of cotton with beeswax, jojoba oil and pine tree resin, these reusable wraps are naturally antibacterial and keep food fresh! They come in fun designs and a variety of sizes to wrap cut fruit and vegetables, sandwiches, snacks, leftover bowls/containers - anything you cover with plastic wrap can be covered with beeswax wrap!
Cleaning the wrap is simple, just wipe with natural dish soap and cool water, then air dry. With proper care these wraps last for months, and even years! When they do reach their end of life, they are fully compostable! Nature Bee + Mind Your Bees are two Canadian brands that offer a great introduction to beeswax wraps.
2) Fabric Bowl Cover
Fabric bowl covers are another great swap. Your Green Kitchen uses certified organic cotton to make their covers. Available in a variety of sizes, the covers have a stretchy elastic edge and are printed in fun designs using natural dyes. They can be used to cover bowls, plates, jars and cups of all sizes; they can go in the microwave and are machine washable. Not only do they come in a variety of beautiful designs, they are reusable and compostable!!
3) Silicone Wraps
Silicone wraps are a third great swap for plastic wrap. Silicone wraps are clear, which makes it easy to remember what's in the covered dish. They are microwavable (be sure to lift one corner), oven friendly up to 375F and are freezer safe. They can be washed easily with warm water and dish soap or in the dishwasher. They are very stretchy and can cover a wide range of sizes, just ensure the surface of your dish/container is dry then place the wrap smooth side down, stretch and cling to the edge of the dish/container.
There are many uses for the covers from going over fruit directly to keep them fresh, to covering bowls of any size. The silicone cover is made out of flexible material so it will stretch over any bowl or pot. Zefiro makes a set of 4 square wraps, which range from 3.9"sq - 9.8"sq. They also provide a great splash guard when you're steaming or frying food. The covers are made from silicone which is BPA, BPS and PVC free and therefore greener than plastic. Silicone has similar chemical and aesthetic properties to rubber, making it form-fitting, durable, and exceptionally reusable. In some places silicone is recyclable but be sure to check with your local municipality.
The environmental benefits of beeswax wraps, fabric covers and silicone wraps as a replacement for plastic wrap are obvious. The less obvious bonus is the financial benefit. All 3 replacements are reusable and eliminate the repeat purchases of cling wrap, plastic wrap and aluminum foil! The feel-good quotient is harder to measure. The fun designs and the knowledge that you are doing something good for you and the planet make these the three easiest changes you can make! What's been your favorite way to replace plastic wrap?
🌲 Pine Boutique