October 07, 2020
A Closer Look - Part 1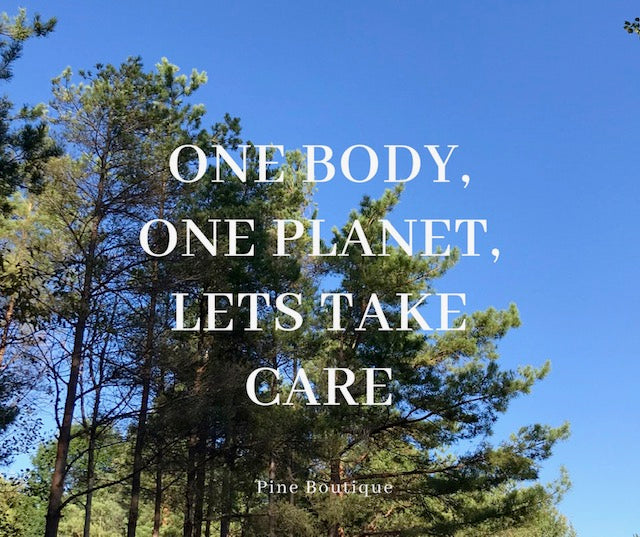 Recently, for a local feature, we were asked to shed some light on why we opened Pine. The first thing that immediately came to mind was because not realizing this dream wasn't an option. We only have one body and one planet and by taking care of both, we can change the world.
Taking care of both can be easy. The hard part is realizing that the world needs changing.
Everyday we are bombarded by ads and products that lead us to believe they are safe. Only when we take a closer look do we realize what we're actually buying, using, and ingesting. For the first part in this series, we're going to be taking a closer look at something we all use + rarely think about: dish soap. 
Chances are you are using or have used the blue and lime green popular brands of dish soap. They are readily available, inexpensive and loaded with harmful chemicals.
Without naming any names, you know the blue dish liquid seen in commercials washing an oil covered bird? This is their ingredient list (taken from their website):
water; sodium lauryl sulfate (SLS); C10-16 alkyldimethylamine oxide; sodium laureth sulfate (SLES); alcohol, denat.; PPG-26; sodium chloride; PEI-14 PEG-24/PPG-16 copolymer; fragrance; phenoxyethanol; methylisothiazolinone; acid blue 9.
Let's take a closer look at this.
Granted, not every component in this list is known to be harmful. For example, debate still continues about long term effects from using sodium lauryl sulfate (SLS) and sodium laureth sulfate (SLES), which are used to remove oil and dirt from surfaces to aid in cleaning.
However, the bolded chemicals are known to be incredibly harmful:
Alcohol denat. (aka denatured alcoho) is a drying type of alcohol that aggravates skin and can strip and dry your skin over time. 
PEI-14 PEG-24/PPG-16 copolymer includes 24 moles of ethylene oxide and 16 moles of propylene oxide. Ethylene oxide (PEG-24) is used primarily to produce other chemicals, including antifreeze. In smaller amounts, ethylene oxide is used as a pesticide and a sterilizing agent. Propylene oxide (PPG-16) can cause skin irritation and is also a mild central nervous system depressant in humans. https://www.epa.gov/sites/production/files/2016-09/documents/propylene-oxide.pdf
*Phenoxyethanol, a synthetic preservative, is known as a 'glycol ether' and is harmful if swallowed, inhaled or absorbed by the skin, especially to nursing mothers or infants (*harmful if over 2% is used)
Methylisothiazolinone is a preservative, initially used in paints. It is a common allergen and can cause contact dermatitis in smaller concentrations. In high concentrations, it can cause chemical burns. 
We want to create a future where natural, safe ingredients are commonplace and products with harmful chemicals are the anomaly.
Luckily, there are numerous Canadian companies that offer natural, sustainable alternatives that offer quality and peace of mind. 
The two Canadian companies we will be taking a closer look at are Green Cricket + Jusu. 
Green Cricket (Toronto, ON)
"Our Cleaning Products are non-toxic and biodegradable. Clean your house with peace of mind knowing you are disinfecting without harming the environment. No parabens, SLES, SLS, artificial fragrances or colours."
Their dish soap (grapefruit mandarin + fragrance free) cuts through grease to clean dishes without harming you or the environment. They are available in take home and refill format at our location and other retailers across the GTA. We absolutely love that Susan has a 'shop local refillery' search option on her website so you can find the nearest refillery to you! 
This is their ingredient list for their fragrance free dish soap (taken from their website):
Ingredients: Aqua, Cocamidopropylamine oxide (a coconut-based cleaning agent used to remove grease), Cocamidopropylbetaine (coconut-based surfactant used to remove dirt and soils), Alkyl polyglucoside (a sugar-based surfactant used to remove dirt and soils), Sodium salt of sulphonic acid (a biodegradable surfactant used to remove dirt and soils), Epsom salts, Biodegradable preservative, Essential oils (oil derived from plant material).
Jusu (Victoria, BC)
Jusu's non toxic dish soap is a 2 x concentrate and only requires 5 ml per sink load of dishes. You will be pleasantly surprised with the amount of sudsing you get for a natural dish soap.
This ensures that your dishes are not just surface clean, but disinfected naturally! The non toxic dish soap is blended with Lemongrass and Sweet Basil essential oils you will love how your kitchen is filled with such an uplifting and refreshing scent!
Ingredients: Castile Soap (Vegetable Oil Based Soap), Cymbopogon flexuosus (Lemongrass) Oil, Ocimum basilicum, ct. Estragole (Basil, Sweet) Oil Biosecur H730D (Citrus Bioflavonoid disinfecting compound) [Glycerin, citrus reticulata fruit extract, citrus aurantium amara fruit extract, citrus aurantium sinensis peel extract, ascorbic acid, citric acid, lactic acid]
No: Phosphates, Triclosan, SLS/SLES, Fragrance, Ammonia, Formaldehyde, Chlorine
*Jusu ingredients are 100% plant-based and planet aware.