March 31, 2021
6 Reasons to Soak!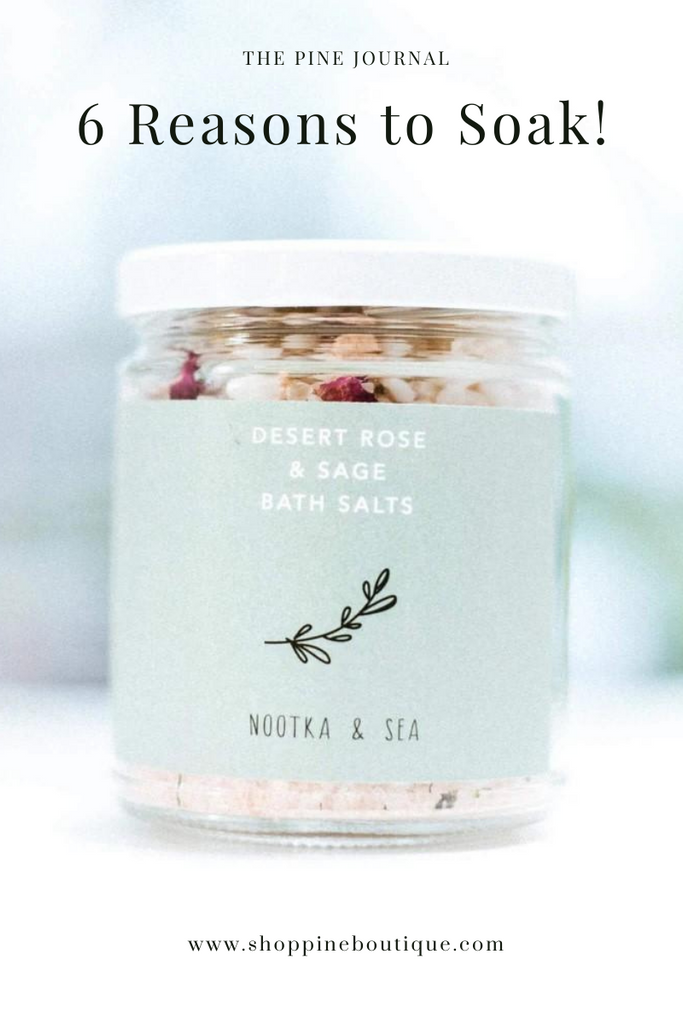 One could say it's been a bit stressful the past year. Wine, whiskey, chocolate, a good book and a long, hot soak are some popular ways to de-stress. If you've chatted to us in-store, chances are you know that we love us some baths! And as bath connoisseurs, we know there is more than one way to bathe: bubbles to cleanse, relax and rejuvenate; salts for sore, tired muscles and inflammation; bath bombs to clean, deodorize, repair skin, and strengthen blood vessels.
Whether you choose to add bubble bath, bath salts or bath bombs, here are Six Reasons to Soak in the tub:
1. Lift Your Spirits - quiet, comfort, warm water combine to give you the security required to allow your mind and body to relax.

2. Improve Your Sleep - a cooler core body temperature leads to better sleep, a warm bath before bed can yield similar results. Soaking in a warm bath raises your body temperature, and when you get out the rapid cool down initiates the production of melatonin (the sleeping hormone), better preparing you for sleep.

3. Relieve Muscle Pain - Heat gets you blood moving, improving circulation and getting your muscles to relax. Adding salts to your bath can help reduce inflammation.

4. Reduces Blood Pressure - Relaxing in a warm bath can reduce blood pressure, which can prevent a heart attack or stroke.

5. Relieve Cold and Flu Symptoms - Steam from a hot bath helps with stuffy noses and coughs. Congestion is caused by inflammation in your nasal passages, steam gets the blood vessels in your face and nose moving, to help get the nastiness out.

6. Soothe Your Skin - A warm bath with calming essential oils, such as lavender, and nourishing oils, such as coconut oil and oatmeal, all soothe, heal, and hydrate your skin.
No matter the season, you can always find these bath goodies at Pine:
Sweet Pea Bubble Bath by Carina Organics:
Sweet Pea Bubble Bath is a soothing, all-natural, bubble bath formulated with certified organic plant, vegetable, flower, and tree extracts to keep your skin moist, soft, and naturally beautiful! Carina's products are all certified organic so it's perfect for sensitive skin.
Clover flower extract and sweet pea flower extract scents provide the subtle pink + flowery aroma that will transport you to field of dreams 🌸 Add at least 2 full caps (or pumps) to your running bath water. Relax + Enjoy!
Bath Bombs by Koaino + CK Soak:
All Koaino and CK Soak bath bombs contain sodium bicarbonate and citric acid. These two ingredients combine to create that fizzing sensation bath bombs are famous for.
But you may be interested to know there's a lot going on beyond the fun fizzle! They clean, deodorize, repair skin, and strengthen blood vessels. These two main ingredients (sodium bicarbonate + citric acid) leave you with healthier, younger looking skin - who doesn't love that?! So not only are they fun, your body will thank you for the rejuvenating enzymes and the healthy, glowing skin you'll have as the result of a bath bomb indulgence.
Bath Salts by Nootka & Sea:
Our current fave bath salt is the Desert Rose and Sage blend by Nootka & Sea. There's something special about the smell of fresh flowers as we head into Spring that just makes us feel so... rosy!
We hype up Nootka and Sea a lot, but we truly cannot express our love for them enough and are SO lucky to carry their bath salts in refill! Their Desert Rose and Sage bath salt blend includes Pink Clay, which helps to restore and replenish tired skin and draws out impurities. The slightly grainy texture helps to lightly exfoliate. Himalayan Salts, which added to a bath creates a rejuvenating, detoxing, & relaxing at home spa while helping to cleanse the body energetically. Rose, which is anti-inflammatory and a tissue regenerator loaded with therapeutic benefits for the skin. Rose oil boosts self-esteem, confidence, & mental strength!
However, if Rose is not your thing, we also carry Nootka's Eucalyptus Willow bath salts in refill! Trust us when we say get ready to have your sinuses cleared!! This blend packs a punch and is perfect for anyone looking for a breath of fresh air from the comfort of their tub. 
So remember to consider your bathing options and luxuriate. Whether it's a bath, some wine, chocolate, a walk in nature, or a good book, dedicate some time to take care of yourself. 💚
🌲 Pine Boutique