June 02, 2022
Multipurpose Products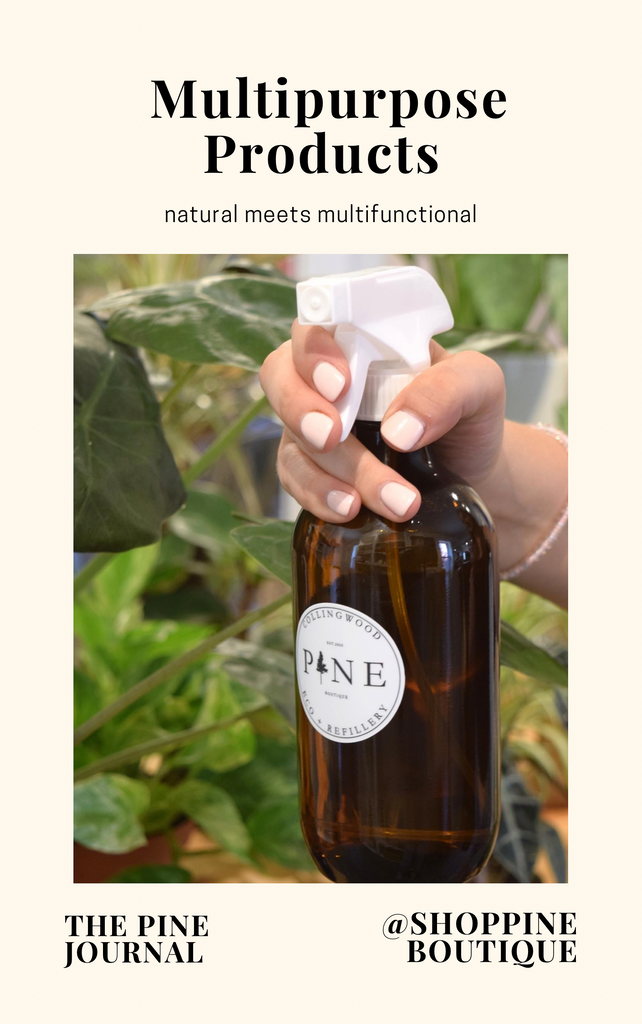 Who doesn't love to stretch their money.. especially with the huge price increases on everything right now? A simple way to stretch your money is by purchasing products that are multifunctional. Here's a look at some products we carry that are natural, work well, and perform many functions! 
Cast Iron Soap/Hand Soap - 100% Natural Cast Iron Cleaning & Seasoning Soap is made using traditional soap making methods and free of sulfates, phosphates, parabens or petrochemicals! Gently cleans and maintains the natural seasoning on cast iron skillets, pans, woks & grills. Gently cleans cast iron without destroying the seasoning! This moisturizing & conditioning soap is gentle enough to be used on your hands!  This lightly scented soap is made with a proprietary blend of lemongrass and rosemary essential oils. Ingredients: water, saponified vegetable oil, glycerin, lemongrass and rosemary essential oils. Refill available
Yoga Mat Spray/Natural Evaporating Cleanser - Green Cricket's yoga mat spray has tea tree oil and witch hazel to provide natural disinfectant and anti-microbial properties and orange, lavender and ylang ylang to give a refreshing and pleasant scent. Safe to use on all types of yoga mats. Use on changing tables, toys, yoga mats, sports equipment, computers and car interiors; this is also a great deodorizer for shoes and sports bags! Orange, lavender and ylang ylang essential oils give a pleasant, refreshing scent. Made without parabens, SLES, SLS, artificial fragrances or colours. Ingredients: Aqua, witch hazel, Lavandula Angustifolia (Lavender) Oil, Melaleuca Alternifolia (Tea Tree) Leaf Oil, Cananga Odorata Flower (Ylangylang) Oil, Citrus Aurantium Dulcis (sweet Orange) Peel Oil, sodium benzoate (preservative), polysorbate (preservative). Refill available
Oxygen Brightener/Tile & Grout Cleaner - This multi-purpose brightener shines in the laundry room, but also in the bathroom, kitchen and all over the house! Add a scoop to your laundry along with your favourite detergent for whiter whites and brighter brights. Featuring sodium percarbonate (hydrogen peroxide) as a brightening agent, sodium carbonate (washing soda) and the superhero duo of citric acid and lemon essential oil to break down mineral build-up, this powder can be made into a paste to clean grout and ceramics, or a solution to spray on carpet stains. Ingredients: Sodium percarbonate, Sodium carbonate, Citric acid, Citrus limonum (Lemon essential oil). Refill available. 
All-in-1 Cleaner - Finally a 100% all natural cleaner that replaces the need for multiple products in your home. It's a glass cleaner, kitchen cleaner, wood cleaner, floor cleaner, bathroom cleaner, wall cleaner, and well, a 'just about everything' cleaner. This cleaner is pH balanced, which means it is safe to use on everything from antiques to granite to custom wood floors. Even electronics, toys, car interiors, glass & mirrors, metals and stainless steel, granite, marble and stone can all be safely cleaned with All-in-1 Cleaner. Ingredients: Aqua (Purified Water), Organic Saponaria Officinalis (Soapwort Herb) Extract, Decyl Glucoside, Organic Olea Europaea (Olive) Fruit Oil, Fucus (Seaweed) Extract, Sodium Chloride (Celtic Sea Salt), Organic Lavandula Angustifolia (Lavender Flowers) Extract, Organic Equisetum Arvense (Horsetail Herb) Extract, Organic Hamamelis Virginiana (Witch Hazel) Bark Extract, Organic Cyamopsis Tetragonoloba (Guar) Gum, Citrus Grandis (Grapefruit) Seed Extract, Organic Citrus Sinensis (Sweet Orange) Peel Oil, Trifolium Pratense (Red Clover) Extract. Refill available. 
Dish Block/Stain Remover - Solid dishwashing soap is a cleaning powerhouse with a rich, sudsy lather, which cuts stubborn grime and grease on dishes, pots and pans. You can use it for cleaning-duty all over your home. It can take stains out of laundry, take labels off of jars, spot clean your carpet, or use it to wipe down ovens... a truly multipurpose product. Ingredients: Sodium ester salts, sodium salts, cocoyl (plant-derived cleaning agent) alkyl sulfonates (cleaning agent) alkyl polyglucosides (plant-derived cleaning agent) sodium carbonate (mineral-derived cleaning agent) potassium cocoate (plant-derived cleaning agent) vegetable glycerol (skin protectant) quillaja saponaria* (plant-derived cleaning agent) aloe vera leaf* (skin protectant) sodium citrate (pH adjuster) sodium gluconate (chelating agent) sodium benzoate (preservative) purified water (solvent) * denotes organic ingredient   Comes in a recyclable paper box.
Heartwood Body Oil/Bath Oil - Heartwood body oil is a multi-purpose concentrated beauty elixir! Lavish your skin with rich plant oils, hand picked, hand brewed Canadian botanical extracts and light natural fragrance. Every bottle is brimming with pure, potent goodness to nourish your skin and senses. Earthy and natural, this rich fragrance showcases the pleasing notes of balsam fir, juniper, black spruce and cedarwood. A hint of patchouli helps bring everything together, making for a deep, spicy perfume oil that will make you feel like you've been embraced by the forest. Uses include the following:
Apply immediately after shower to damp skin or mist skin with a toner before massaging into skin.

M

assage a few drops of oil into your hands, cuticles, toes and elbows to deeply nourish these areas.

Massage a small amount of oil to wet hair as a hair masque. Wrap your hair in a towel and relax for 30 minutes, shampoo and rinse.

Add Heartwood Oil to the bath for a super moisturizing bath that smells like the forest.

Perfume oil, roll on your wrist for an all natural woodsy scent.
Ingredients: organic sunflower seed oil, hemp seed oil, balsam fir oil, Black Spruce oil, Cedarwood oil, organic castor seed oil, Atlas Cedar bark oil, Juniper fruit oil, Patchouli oil, Red Pine extract, Pepper fruit extract, vitamin E.  
Comes in a glass bottle.
Beyond the double (or more) duty of these products, the above are zero waste and many are available for in-store refill. As an added bonus, the products above are made using ingredients that benefit you and don't harm the environment!