October 18, 2020
5 Canadian-Made Zero Waste Essentials!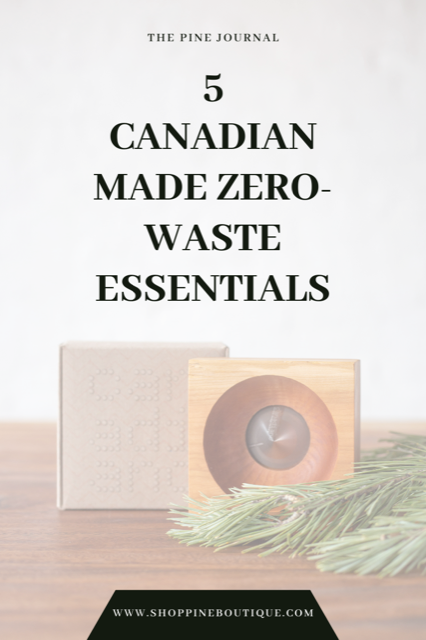 Respect for the body and the planet; this is the heartbeat that drives our sustainable Canadian Superstars. From the source and selection of ingredients to the manufacturing process to the choice of packaging to the distribution method, each component is thoughtfully considered to ensure the best products for us, with maximum respect for the planet. 
Canadiano - coffee re-imagined 
Imagined and created in Toronto with locally sourced material, this team of creatives re-imagined a way to brew coffee using a wooden bowl and a very fine metal filter. The Canadiano Pour-Over has married great tasting coffee and sustainability. It's the most delicious and eco-friendly way of having coffee, just place the pour-over on your mug, put 2 tablespoons of coffee grinds onto the filter, pour hot water while stirring, great-tasting coffee drips into your mug. When you're done, place your grinds in the compost bin and rinse to clean!
What happens to the offcuts when making the pour-overs you may ask? They've thought of that too! The wood waste that's produced - the sawdust and wood scraps - are reused to make the handles of the brand's French Press. The Canadiano line of coffee makers ensure a great cup of coffee, which is good for us coffee lovers, and produces no waste, which is good for the planet!                                                                 
Nelson Naturals - all-natural + refillable toothpaste
Food grade ingredients crafted into toothpaste that works. Hard to believe this isn't how all toothpaste is made. Nelson Naturals started in 2012 with the goal of reducing the number of toothpaste tubes to landfills and making toothpaste with non-toxic ingredients. I never thought about what toothpaste is made of until Nelson Naturals, blue gel doesn't just happen! They also make toothpaste in tablet form, just crush the tab between your teeth and start brushing. Same clean ingredients, same glass jar, same refill option. All this from the visionary team in Nelson, British Columbia.
Bottle None - package-free shampoo + conditioner bars
Natural cleaning goodness in a bar, just rub the bar to create a lather and wash your hair. To use the conditioner bar, rub it with hot water and rub the bar down the strands of hair, then massage through your hair. Towel dry and rub into the ends for extra leave-in moisturizing. No package when you buy the bars, no waste when you're done! But that's not all, the plastic containers used to ship ingredients to Bottle None are broken down and then re-created into printer filament, which is used to create their shampoo bar travel/soap dish sets and combs. Two sisters in Vernon, BC figured out a way to create zero waste, all natural shampoo and conditioner bars that work and re-purpose the plastic containers into functional accessories using 3-D printers, WOW!
Tru Earth + Jusu Life - the future of laundry
If you're old enough, you remember when laundry powder came in a really big box and you scooped about 1 cup into your washing machine. Then plastic took over the world and liquid laundry soap in really big jugs became the new normal, just fill the cap with about 1/2 cup of liquid and pour into your machine. Then pods took over, liquid laundry detergent encased in plastic. Just toss one pod into the machine. We have reached a point where 700,000,000 plastic laundry detergent containers (jugs and pod containers combined) go to landfill in North America every year. Tru Earth laundry strips provide the required cleaning power without contributing waste! Each strip contains ultra-concentrated, hypo-allergenic, septic tank safe cleaning detergent that dissolves completely. The strips are available in biodegradable sleeves or bulk, no packaging period!
Jusu Life makes an equally effective laundry detergent concentrated powder. Using washing soda and borax as base ingredients to deodorize and whiten without fading colours in combination with Rosewood essential oil to inhibit dust mites and sweet orange essential oil to cut through grease. Jusu Laundry Powder is another zero waste product, available in refill format, simply bring in an empty container and fill.
Both options do the job of cleaning clothes, both are made with ingredients that are gentle on sensitive skin, completely biodegradable and 100% plastic free!!
Mani (Canadiano), Dana + Kevin (Nelson Naturals), Jaye + Ali (Bottle None), Ryan, Brad + Kevin (Tru Earth) and Bruce + Amanda (Jusu Life) have done the heavy lifting. They have created products that are better for us and our planet. Now it's our turn. 
🌲 Pine Boutique