April 28, 2021
Safe Spring Cleaners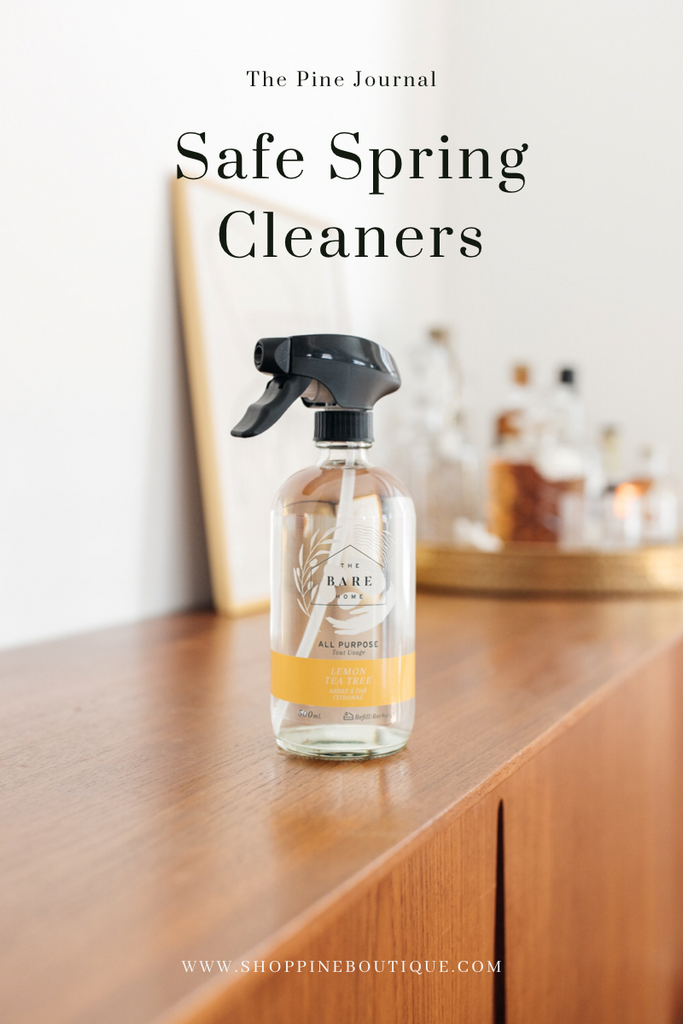 There is something intrinsically satisfying about spring cleaning. When you can turn up the music, let the sun stream in, grab the spray cleaner + make your home shine. Our two favourite all purpose spray cleaners are safe and effective on every surface in your home. No need to switch cleaners from the kitchen to living room, or granite to glass. Better still, both Canadian-made cleaners are available in 500ml glass spray bottles, 3L refill-at-home boxes and in-store refill.
Lemon Tea Tree All Purpose Cleaner - The Bare Home (Toronto, ON)
Spray + Wipe all surfaces in your home, no rinse required. This streak-free cleaner is safe on stainless steel, countertops, sealed granite + marble, floors, glass, mirrors + more! This cleaner is biodegradable, septic-safe and scented with essential oils.
Ingredients: Aqua, Ethyl Alcohol, C9 - C11 Alcohol Ethoxylates, Decyl Glucoside, Phenoxyethanol, Ethylhexylglycerine, Organic Leptospermum Petersonii (Lemon Tea Tree) leaf Oils
Ethyl Alcohol - plant-based solvent, good for dissolving grease and oil, biodegradable
C9 - C11 Alcohol Ethoxylates - coconut-based surfactant, which allows surfaces to be cleaned
Decyl Glucoside - cleansing agent derived from coconut
Phenoxyethanol - a synthetic preservative used to fight bacteria (less than 1% concentration used)
Ethylhexylglycerine - a synthetic preservative, aids in the efficiency of phenoxyethanol, which means lower concentrations are effective
All-in-1 Cleaner - (Elva's All Naturals, Milton, ON)
Cleans glass, mirrors, stainless, granite, marble, kitchen cleaner, wood furniture + floors cleaner, bathroom cleaner, electronics cleaner, and 'just about everything' cleaner. Sparkling, shiny surfaces are just a 'spray & wipe' away! This cleaner is pH balanced, which makes it safe for everything from antiques to custom wood floors.
Ingredients: Aqua (Purified Water), Organic Saponaria Officinalis (Soapwort Herb) Extract, Decyl Glucoside, Organic Olea Europaea (Olive) Fruit Oil, Fucus (Seaweed) Extract, Sodium Chloride (Celtic Sea Salt), Organic Lavandula Angustifolia (Lavender Flowers) Extract, Organic Equisetum Arvense (Horsetail Herb) Extract, Organic Hamamelis Virginiana (Witch Hazel) Bark Extract, Organic Cyamopsis Tetragonoloba (Guar) Gum, Citrus Grandis (Grapefruit) Seed Extract, Organic Citrus Sinensis (Sweet Orange) Peel Oil, Trifolium Pratense (Red Clover) Extract.
Soapwort Herb Extract - plant with cleansing properties
Decyl Glucoside - cleansing agent derived from coconut
Sodium Chloride - cleans, removes stains, prevents mold
Horsetail Herb Extract - antimicrobial herb
Witch Hazel Bark Extract - cuts through grease, anti-bacterial, anti-microbial
We thought it would be interesting to look at a popular name brand all purpose spray cleaner to check what's inside. We chose Windex Multi-Surface Cleaner Greasecutter from Johnson & Johnson, which according to their website: "Cleans windows, glass, countertops, appliances, stove tops, faucets & sinks, microwaves with a "streak-free" finish."
Ingredients: water, 2-Hexoxyethanol, butoxypropanol, proplylene glycol, sodium C14-17 sec-alkyl sulfonate, fragrance, sodium dodecylbenzene sulfonate, sodium hydroxide, Liquitint bright yellow dye, Liquitint green SG dye
2-Hexoxyethanol - this chemical is rated "F" on ewg.org given the high concern of skin burns and eye damage, possibly harmful when in contact with skin
Butoxypropanol - a solvent, cleaning agent used to cut through grease and remove dirt, can cause skin and eye irritation
Propylene glycol - a synthetic ingredient added to ensure the ingredients are evenly distributed throughout the product
Sodium C14-17 sec-alkyl sulfonate - a wetting agent used to help the product spread across a surface
Fragrance - 2-t-butylcyclohexyl acetate; 3-methyl-2-butenyl acetate; amyl salicylate*; c11-15 sec-pareth-12*; c12-14 sec-pareth-3; dipropylene glycol; linalool*; phenethyl alcohol; tetramethyl acetyloctahydronaphthalenes*; tricyclo(5.2.1.02,6)dec-4-en-8-yl acetate (taken from the J&J website)
Sodium dodecylbenzene sulfonate - a petroleum-based, surfactant (cleansing ingredient) -  irritating to skin and has been shown to contribute to long-term health problems with continued exposure
Liqutint bright yellow dye -  Liquitint® is a trademark and product of Milliken & Company. According to the J&J website "We add dyes to products for a variety of reasons including helping you see where you applied the product, when a product is used up, or for aesthetic reasons."
Given what Windex Multi-Surface Cleaner Greasecutter is made of, we're even more thrilled that Ashley from The Bare Home and Kirsten from Elva's All Naturals have created safe, effective all purpose cleaners!! Natural should be the norm and it's companies like these that are helping to make that our reality. 
The 3L bag-in-a-box for at home refill is convenient and eco-conscious; the bag, box and glass spray bottle are all recyclable. So open the windows, crank the tunes, grab your favourite all purpose cleaner + let the sun shine in!
As always,
Let's Take Care 💚
🌲 Pine Boutique