January 17, 2021
3 Canadian-Made Toners You'll Love!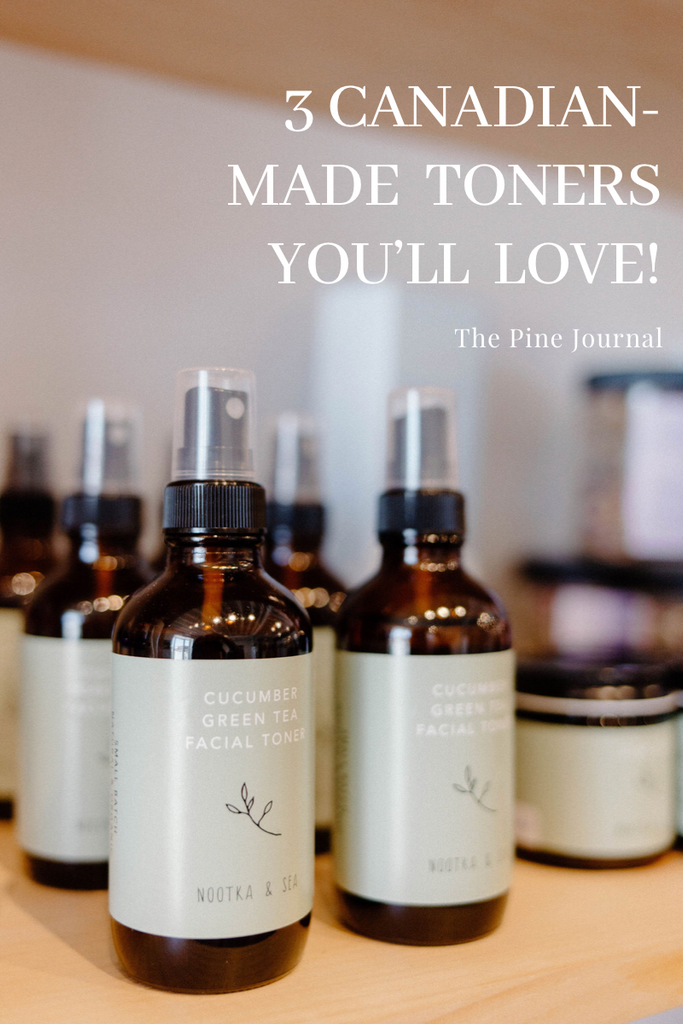 Like all skincare products, toners come in a spectrum of formulations. Here is a review of what toners are a why they should be part of your daily routine, followed by an introduction to 3 of our favourites!
Toners are applied to your face immediately after washing to nourish and replenish your skin. This quick spritz of hydration delivers soothing, brightening and anti-aging ingredients, which prepare it to fully absorb serums and moisturizers.
Toner Benefits:
Removes impurities:

 

removes the dust, pollution, and impurities that can still be lingering after washing 
Protects skin:

 

closes up any gaps in the skin cells, which reduces the risk of impurities getting into your skin
Improves efficacy of other products: help balance the pH level of skin, and helps serums and moisturizers penetrate deeper into your skin
Our 3 Favourites:
Green Tea & Cucumber Toner - Nootka & Sea, Squamish B.C.
Reap the benefits of organic green tea & cucumber peel extracts, rich in anti-inflammatories and skin tightening properties to help prevent early signs of aging. Protects the complexion against environmental damage. This facial toning spray is rich in vitamins, minerals & enzymes essential for strong cell growth & repair.
Key Ingredients:
green tea - repairs skin damage, rejuvenates drying skin cells, anti-inflammatory, controls bacterial growth that can cause acne, hydrates the skin, good for all skin types
cucumber peel extract - rejuvenates skin, promotes cell growth and repair, anti-inflammatory, soothing, hydrating, good for mature and damaged skin 
aloe vera - soothe skin irritation, reduce redness, boost skin cell production, good for sensitive skin
*Good for all skin types, acne prone and mature skin benefits
Ingredients: Rosewater, witch hazel, colloidal silver, green tea, aloe juice, cucumber peel extract, seaweed extract, & essential oils of lavender, patchouli, frankincense, & vanilla.
Rosehip Toner - Boreal Folk, Coastal B.C.
Boreal Folk's rosehip toner is a true hydrosol made from steam distilling wild rosehips in their copper still using traditional methods. Hydrosols are produced by distilling fresh plant materials into therapeutic and aromatic waters. This product has a light floral scent - smelling of fresh plump rosehips + soft roses. This beautifully rare hydrosol is cleansing, rejuvenating + anti-inflammatory.
Key Ingredients:
glycerin - helps skin retain moisture without blocking the pores, good for dry skin
rosehip hydrosol - cleansing, brightening, rejuvenating,anti-aging, anti-inflammatory, good for all skin types, especially mature skin
rose oil - calming, soothing, stress-relieving aromatherapy
jojoba oil - hydrates, nourishes, protects, helps reduce facial lines, easily penetrates skin, anti-inflammatory, controls bacterial growth that can cause acne, good for all skin types, especially troubled and mature skin

*Good for all skin types, acne prone and mature skin benefits
Ingredients: Steam distilled Spring water, Rosa articularis (wildcrafted rosehips), organic glycerin, Rosa damascena (rose oil), Simmondsia chinensis (jojoba oil).

Invigorating + Balancing Toner -  Province Apothecary, Toronto, ON
Province Apothecary's cooling floral essence-based toner is a vital part of your everyday skincare routine, feeding your skin nourishing botanicals and re-balancing after cleansing. The alcohol-free formula hydrates and smooths skin without disrupting the natural pH, controls the appearance of oil, and enhances the absorption and performance of oil serums for brighter, firmer skin. Province Apothecary recommends using this toner when your "skin is acting up". 
Key ingredients:
rose flower water - reduce skin redness, anti-inflammatory, diminish the look of fine lines, good for acne prone and mature skin
rosemary leaf extract - reduces puffiness, prevents signs of mature aging, good for acne prone and mature skin

geranium oil - tightens skin, reduce appearance of wrinkles, combats skin irritations, good for mature skin

*Good for all skin types, acne prone and mature skin benefits.
*Available for refill.
Ingredients: Distilled Water, Rose Flower Water*, Lavender Flower Water*, Lactobacillis Ferment, Rosemary leaf extract, Geranium oil, Clary Sage oil, Patchouli oil*, Frankincense oil*. *Certified Organic
Before you go, we chave a challenge for you! The next time you buy toner, take a look at the ingredients...
Popular brand Neutrogena's Face Toner contains the following ingredients: 
Water (eau), Butylene Glycol, PEG-4, Polysorbate 20, Oleth-30, Sodium Chloride, *Methylparaben, *Propylparaben, Disodium EDTA, Ceteth-15, *Parfum, Benzalkonium Chloride, Glycereth-26, Panthenol, Sodium PCA, Choleth-15...Yikes!
*If you have sensitive skin, you'll want to stay away from parabens and fragrance.  
Read the labels and get to know your skin! Ingredients have specific properties that target certain things, so choose a toner best suited to your skins needs!
All three toners listed above have anti-inflammatory and anti-microbial properties. They all contain rose, which is great for acne prone skin, and they all hydrate and assist in your skin's ability to absorb moisturizers/serums. Simply put, all three toners are Canadian-made cocktails of mother nature's finest to nourish, repair and protect all skin types. 
Which toner would you try?
🌲 Pine Boutique