June 08, 2021
Benefits of Rosehip Oil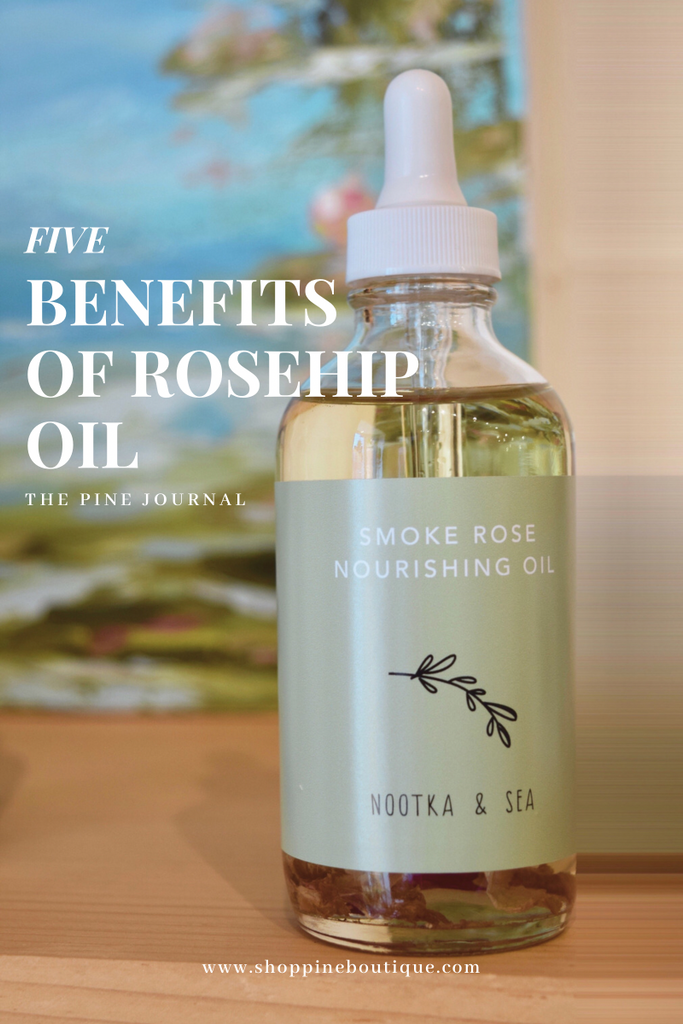 Rosehip oil, also known as rosehip seed oil, is pressed from the fruit and seeds of the rose plant. 
Known for centuries for its valuable healing benefits, rosehip oil is loaded with skin-nourishing vitamins and essential fatty acids. It also contains phenols that have been shown to have antiviral, antibacterial, and antifungal properties. Rosehip oil is often used as a carrier oil for essential oils which are too intense to put directly on your skin.
🌟 Here are 5 ways rosehip oil can benefit your skin, and how to add it to your skincare routine.
1. Hydration - Rosehip oil contains lots of essential fatty acids, including linoleic and linolenic acid. Fatty acids help to keep cell walls strong so that they don't lose water. Rosehip oil is easily absorbed by the skin, which means it's antioxidants are absorbed into the layers of your skin.
2. Helps Acne Prone Skin - Linoleic acid is also effective at preventing the breakdown of cell membranes in the skin. Strong, healthy cells act as a barrier to prevent bacteria from invading the skin, which can lead to outbreaks and infections. 
3. Reduces Scars + Fine Lines - Rosehip oil's anti-inflammatory fatty acids and vitamins A + C, are integral for tissue and cell regeneration in the skin. Hence, why it has been used as a folk remedy for wound healing, as well for the reduction of scars and fine lines.
4. Reduces Hyperpigmentation - The Vitamin A in rosehip oil is made up of several nutritional compounds, including retinoids. Retinoids are known for their ability to reduce hyperpigmentation and other visible signs of aging with regular use.
5. Protects Against Sun Damage - Exposure to the sun over time can contribute to premature aging because UV exposure can disrupt the body's ability to produce collagen. Antioxidants like vitamins A, C, and E, which are all found in rosehip oil, synergistically combat visible sun damage, reducing the negative effects of UV exposure. 
The best way to add it to your skincare routine is to use skincare products that contain rosehip oil. Here are some all-natural, Canadian made skin care goodies we carry that contain rosehip oil:
🌹 Nootka's Carrot Rose Serum - our favorite serum to date thoughtfully made in Squamish B.C. using wildcrafted ingredients. We love it SO much, we made a whole blog post about it that you can read  here: https://shoppineboutique.com/blogs/the-pine-journal/show-your-face-some-love-serum
🌹 Boreal Folk's Rosehip Toner - Boreal Folk's rosehip toner is a true hydrosol made from steam distilling wild rosehips in their copper still using traditional methods. Hydrosols are produced by distilling fresh plant materials into therapeutic and aromatic waters. To learn more about this refreshing toner, click here: https://shoppineboutique.com/collections/body/products/rosehip-toner-boreal-folk
🌹 Nootka's Body Oils - another one of our fave's from our friends in Squamish! Nootka's body oils are truly multi-purpose; they can be used as a moisturizer, massage oil, bath oil, shaving oil, and more. The Smoke Rose, Cypress Argan, and Lavender Vanilla Body Oil all contain rosehip seed oil. To learn more about their properties, checkout the following link: https://shoppineboutique.com/collections/body/products/nootka-sea-body-oil
🌹 Birch Babe's Organic Hydrating Face Cream - This light, hydrating and fast-absorbing moisturizer can be used day or night. Handmade in Bon Echo Ontario, a little goes a long way with this because of the highest quality of oils involved, such as rosehip, grapeseed and avocado. To learn more, click here: https://shoppineboutique.com/collections/body/products/hydrating-face-cream-birch-babe
🌹 Province Apothecary's Bath + Body Oil -  The rich blend of moisturizing plant oils effectively tones, firms and improves elasticity, leaving skin smooth and glowing. Available for in-store refills. To learn more about the ingredients that make this oil so rejuvenating, and for tips on how to apply, click here: https://shoppineboutique.com/collections/body/products/province-apothecary-bath-body-oil 
Our aim here at Pine Boutique (in-store + online) is to provide a curated selection of all natural products made in small batches by Canadian entrepreneurs. We want to make it easy for you to show your skin some love + we hope this can provide a helpful starting point! 💚
Take Care,
🌲 Pine Boutique