June 13, 2021
A Closer Look - Part 5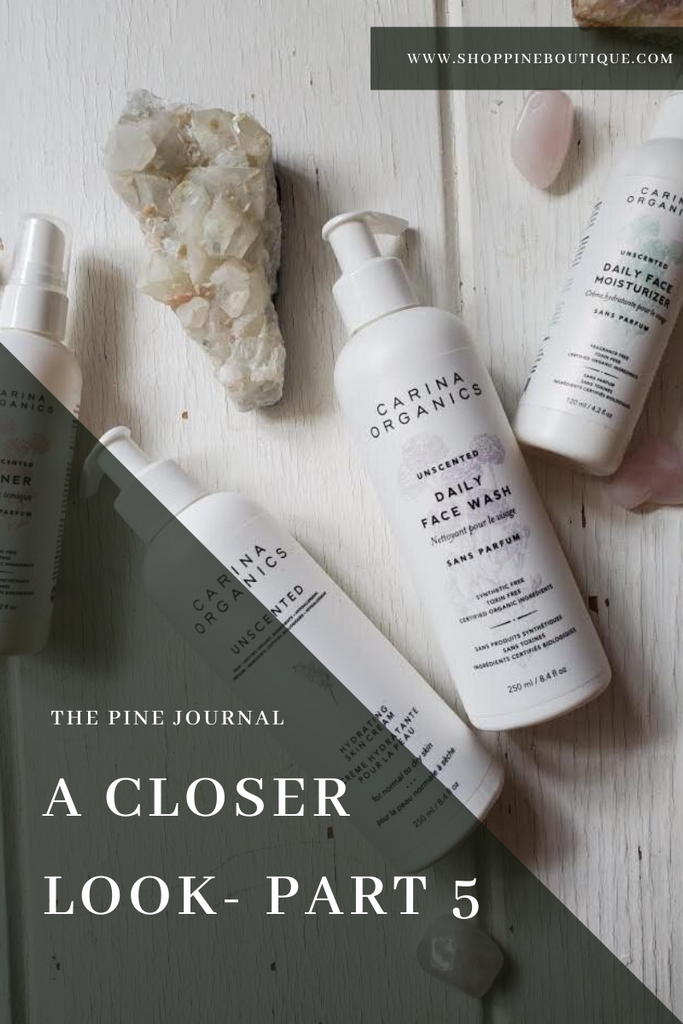 When it comes to face wash, our bodies don't need dozens of chemicals, sometimes all it needs is the right combination of natural ingredients to help it return to its natural balance. For example, if you have acne prone skin or blemishes, look for things with rosehip oil since that naturally helps prevent the breakdown of cell membranes, keeping your cell walls healthy + strong, which prevents bacteria from invading your skin and can help clear acne. If you have dry or mature skin, sea buckthorn seed oil could help because of its high Vitamin C content which helps brighten skin spots and boosts collagen. 
No matter what state your skin is in, chances are there's a natural remedy out there that can help! 
So without further ado, it's time to take a closer look at the what and why of facial cleanser ingredients; we'll be looking at a name brand face wash to learn what ingredients to stay away from + we'll be looking at 2 Canadian-made all-natural face washes to show us why natural is the way to go! 
Brightening Facial Cleanser - Aveeno, Johnson & Johnson USA
Described on the Aveeno website as follows: "This facial cleanser with moisture-rich soy extract gently removes dirt, oil and make-up – leaving your skin feeling soft and smooth. Oil and soap-free, it's designed to be gentle enough for sensitive skin." Sounds great, let's check out what it's made of.
Ingredients: Water, Cocamidopropyl Betaine, Sodium Laureth Sulfate, Acrylates Copolymer, PEG-80 Sorbitan Laurate, Coco-Glucoside, Di-PPG-2 Myreth-10 Adipate, Glyceryl Oleate, Glycerin, Fragrance, DMDM Hydantoin, Soyamidopropyl Betaine, Lauryl Methyl Gluceth-10 Hydroxypropyldimonium Chloride, Methylparaben, Tetrasodium EDTA, Sodium Hydroxide, Polyquaternium-10, Butylene Glycol, Silica, PEG-16 Soy Sterol, Glycine Soja (Soybean) Protein, Citric Acid, Mica, Titanium Dioxide
Concerning Ingredients - all considered safe by USDA in limited amounts:
Acrylates Copolymer -  Beware!  This ingredient is used as a binding, film forming, and antistatic agent.  It can be found in a variety of products including nail polish, hair sprays, sunscreen and mascara.  It is not known to be carcinogenic or mutagenic, thought it may be a skin or eye irritant.
PEG-80 Sorbitan Laurate - Beware!  PEG-80 Sorbitan Laurate is used as an emulsifier, mild solvent, and mild surfactant, which helps water combine with oil and dirt to be cleansed.  This ingredient is considered safe to use in cosmetics, however it is derived from polyethylene glycol, which may be contaminated with carcinogens 1,4-dioxane (1 ppt), formaldehyde (2.5 ppm), ethylene oxide (1 ppm), and acetaldehyde (3 ppt). 
DMDM Hydantoin - Avoid! This is a preservative that slowly releases formaldehyde - a known human skin toxicant or allergen
Lauryl Methyl Gluceth-10 Hydroxypropyldimonium Chloride - Avoid!  This ingredient is an ammonium salt used for its humectant and antistatic qualities.  There is no available information available on this ingredient.
Fragrance:  Beware!  Fragrances are often synthetic. They are in moderate concentration in this product, so there may be a greater chance of having an allergic reaction.
Methylparaben:  Beware!  This ingredient is synthetic and acts as a preservative with anti-fungal properties.  It is naturally occurring in fruits such as blueberries as p-hydroxybenzoic acid.  This ingredient is readily absorbed into skin and it along with other parabens have been at the center of controversy about its role in causing cancerous cells in breast tissue being that parabens are xenoestrogens (mimic estrogen).  
Tetrasodium EDTA:  Beware!/Avoid!  EDTA is an abbreviation for Ethylenediaminetetraacetic acid.  This ingredient is used as a chelating agent and as a preservative.  It can improve lather and decrease incidence of soap scum.  Tetrasodium EDTA is a penetration enhancer and suspected to be toxic to the upper respiratory tract, skin, and eyes. Target organs are the kidneys and bladder.  This ingredient is toxic to the environment and is a suspected persistent organic pollutant (POP) by the EU. 
Now, let's take a closer look at two all-natural, Canadian-made alternatives. 
1. Daily Face Wash - Carina Organics, Vancouver, BC
A synthetic-free, scent-free, daily face wash formulated with certified organic plant, vegetable, and fruit extracts. This entirely natural and organic solution gently clears away unwanted oils, makeup, and impurities, while restoring the natural pH of your skin.
Ingredients: Filtered Aqua, Potassium Cocoate (saponified Cocos nucifera / coconut oil), Glycerin (vegetable)*, Pinus banksiana (pine) extract, Magnesium Chloride (Magnesium Oil), Olea europaea (olive) fruit oil*, Matricaria chamomilla (chamomile) flower extract*, Urtica dioca (nettle) leaf extract*, Taraxacum officinale (dandelion) leaf extract*, Trifolium pratense (clover) flower extract*, Acetic Acid (Apple Cider Vinegar)* (*=organic)
Pine Extract - Pine extract protects skin from sun damage. It is also anti-inflammatory and can reduce signs of aging.
Chamomile Flower Extract - Chamomile flowers have natural anti-inflammatory and calming properties. It is beneficial for soothing the skin, relieving burns and calming irritations.
Dandelion Leaf Extract - Dandelion is often included in skincare for its skin refining, soothing, and anti-aging benefits. It includes vitamins A, C, and E, all of which possess powerful antioxidants that protect skin against free radical damage and signs of aging by boosting collagen production and reducing the appearance of fine lines and wrinkles. It also contains magnesium and zinc which help detoxify skin, and anti-inflammatory properties to help calm irritation, making it great for soothing acne-prone skin.
Clover Flower Extract - Red clover preserves youthful skin texture and reduces wrinkles before they form. It helps skin heal and can alleviate acne. It helps improve circulation to the skin, which improves skin tone.
2. Vitamin Rich Facial Wash - Nootka & Sea, Squamish, BC
Our Facial Wash is enriched with hydrating, certified organic oils of rosehip, sea buckthorn, & carrot; rich in anti-inflammatory and skin tightening properties to help prevent early signs of aging. Protects the complexion against environmental damage. This facial wash is rich in natural vitamins, minerals, & enzymes essential for strong cell growth and repair. 
Ingredients: Natural spring water, rose water, rosehip oil, carrot tissue oil, black currant seed oil, camellia seed oil, argan oil, vegetable glycerin, carnauba wax, cetyl alcohol, colloidal silver, citric acid, custard apple powder, calendula oil, & essential oils of rose, lavender, & vanilla. 
Rosehip Oil - wild crafted from the seeds of rose bushes. Rosehip has anti-inflammatory fatty acids and vitamins A + C, which allow rosehip oil to treat signs of aging and pigmentation, hydrate skin and repair damaged skin, and provide a strong protective antioxidant boost — all without feeling oily!! The astringent properties in rosehip oil help tighten your pores and brighten your skin. The vitamins in rosehip oil help even out skin tone. Rosehip oil may help your skin regain elasticity, to provide a fresh, more youthful appearance. Rosehip oil can help fade scars as well: anti-inflammatory fatty acids and vitamins A and C — make this oil a potential solution for fading any facial scars or unsightly marks. (*To learn more about rosehip oil, checkout out our previous blog post where we dive deep into what it is exactly that makes rosehip oil so magical! ✨) 
Carrot Tissue Oil - Carrot Tissue Oil is rich in beta-carotene, vitamins A, B, C, D, E and F. Carrot Tissue Oil is a tonic to the skin and helps to reduce itchy skin, dryness and premature ageing (especially around the neck). Carrot Tissue Oil can also help the healing process - it rejuvenates and softens scar tissue.
Evening Primrose Oil - Evening Primrose Oil contains gamma-linolenic acid (GLA) an omega-6 fatty acid. GLA helps acne by reducing skin inflammation. It helps the skin retain moisture, helps with elasticity and firmness, and smooths wrinkles.
Colloidal Silver - is a mineral solution of silver particles suspended in distilled water or a polymer. It is naturally antibiotic + antifungal. It can also be used to heal any open lesions, reduce inflammation, and is great for post sun exposure. 
Once you try either of these nourishing, Canadian made facial washes, this part of your daily skincare routine will go from a chore to something to look forward to; Knowing your skin is naturally clean + cared for will transform your skincare routine into a ritual ✨

Take Care,
🌲 Pine Boutique